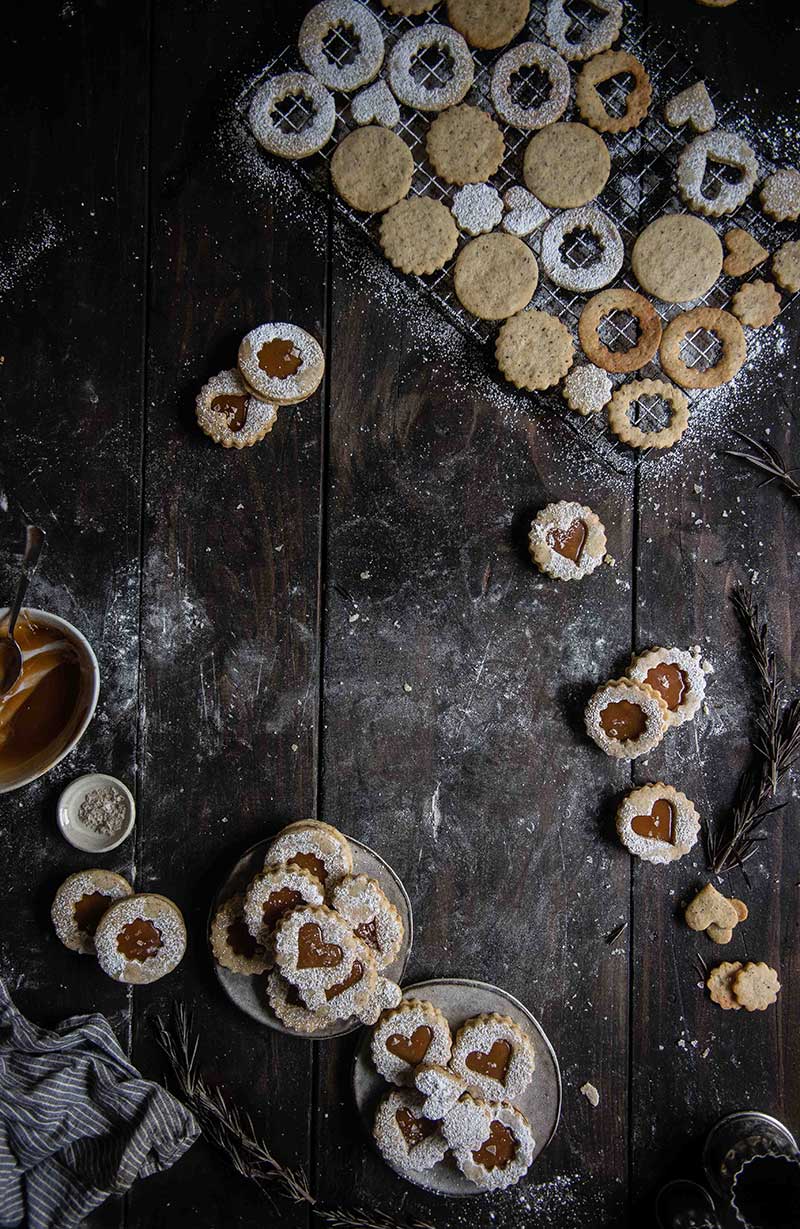 These rosemary hazelnut Linzer cookies with salted caramel filling are a symphony of flavor that you won't want to put down. Fragrant with rosemary and delightfully crumbly, these cookies make an excellent pair to your tea or coffee, melting little by little with each dip.
While traditional Linzer cookies often include jam or preserves at the center, these treats have a more decadent twist. The true star of the show is the salted caramel filling oozing from the center, lending sweet and savory perfection to each bite. Bake up a fresh batch and indulge in the blend of comforting nuttiness, aromatic herbs, and rich caramel filling. These cookies are sure to invoke feelings of warmth and nostalgia, making them a tried-and-true holiday favorite as well as an excellent gift for any caramel-lover.
Yields about 24 cookies, plus little cookie sandwiches from the holes. Salted caramel filling recipe adapted from Top with Cinnamon.
For the cookies:
• 1 cup hazelnut meal (or nut meal of your choice)
• 2 cups (250 g) all-purpose flour
• 1/2 tsp baking powder
• 1/4 tsp salt
• 1/2 tsp finely chopped fresh rosemary, or 1/4 tsp dried
• 1 cup (2 sticks) unsalted butter, at room temperature
• 1/4 cup packed light or dark brown sugar
• 1/2 cup granulated sugar
• 1 large egg
For the caramel filling:
• 2/3 cup granulated sugar
• 6 tbsp water
• 1 tbsp butter
• 6 tbsp creme fraîche or heavy whipping cream
• 1/2 tsp vanilla extract
• 1/4 tsp sea salt
Instructions
1. Sift together the hazelnut flour, all-purpose flour, baking powder, and salt in a medium bowl.
2. Place butter and both sugars in a large bowl and use an electric mixer to beat it until light and fluffy, about 2 to 3 minutes.
3. Scrape down the sides of the bowl, then add the egg and chopped rosemary and beat again until incorporated. Fold in the flour mixture until just combined.
4. Divide dough in half and wrap each dough ball in plastic wrap. Chill the dough in the fridge for at least one hour or up to two days.
5. Heat oven to 350°F and line a baking sheet with parchment paper or a Silpat. On a well-floured surface, roll out the first dough ball to about 1/8" to ¼" thick. Use a circular 2" cookie cutter to cut out rounds of dough. Using a smaller, ¾" cookie cutter, cut out the centers of half of your cookies to form the top ring.
You can either save these smaller centers and make miniature cookie sandwiches, or combine them and re-roll them to make more cookies — and you can gather up, re-chill and re-roll the cookie scraps as many times as needed. If the dough becomes too soft to handle, replace in the freezer for a few minutes to let it firm up.
6. Place the cookie rounds, evenly spaced, on the parchment- or Silpat-lined baking sheet. You don't need to leave much space in between the cookies, as they won't spread too much while baking. When you've cut out enough to fill the baking sheet, bake cookies until golden at edges. For me, this took about 10-11 minutes. Let cool for a few minutes on the sheet, then transfer to a cooling rack.
Repeat with remaining dough. Once the cookies are cool, you can powder them with confectioners' sugar — arrange the cookies with holes (or all of the cookies) on a baking sheet lined with parchment and sift powdered sugar over them as desired.
7. Next, make the caramel filling. First, prepare a bowl of ice water and set aside within easy reach. Combine the sugar and water in a medium, heavy-bottomed saucepan over medium heat and stir just until dissolved. Let bubble, without stirring, until the syrup turns just golden. Immediately remove from heat. Add butter (take care as it may splatter) and swirl the pan until dissolved, then add creme fraiche or heavy cream and swirl again until dissolved.
8. Finally, add the vanilla and salt and stir to combine. At this point, drop a small spoonful of the caramel into the ice water.
If it turns solid, pliable, and able to formed into a ball, then you're done and the caramel is ready to be used as filling. If it stays liquid or dissolves, return the caramel to low heat and let it simmer for 1 or 2 more minutes, testing in the ice water again every 20-30 seconds, until it solidifies. (For an excellent step-by-step tutorial with GIFs, see Top with Cinnamon.)
9. Working quickly so that the caramel is still soft, form the cookie sandwiches. Drop a spoonful of caramel onto the center of the cookies without holes, then place a "lid" on top and press gently to seal. Let cool and enjoy!
Notes:
If you're used to making caramel with a candy thermometer, feel free to substitute your favorite caramel recipe in place of this one.