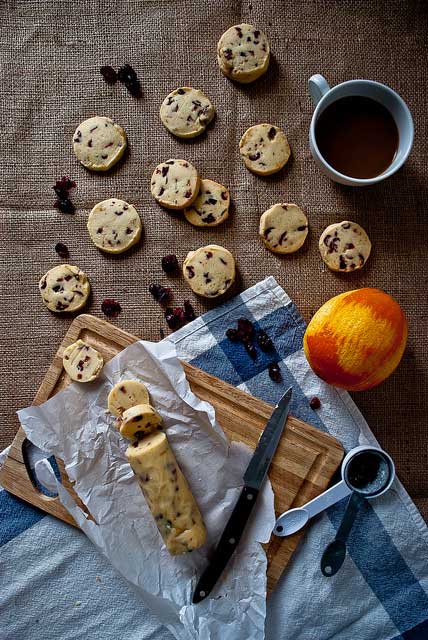 Shortbread cookies are a timeless choice for any professional or at-home baker seeking to infuse their kitchen with a sense of warmth and nostalgia. This recipe takes the classic cookie and offers a delightful combination of tart cranberries and citrusy orange zest, harmoniously paired with the buttery richness of shortbread.
Beyond their delectable taste, they evoke sentimental memories and traditions, making them the perfect choice for holiday gatherings, cozy evenings by the fireplace, or simply to share a piece of heartwarming nostalgia with loved ones.
Yields 24 cookies. Lightly adapted from Honey & Jam.
• 1/2 cup (1 stick) unsalted butter, room temperature
• 1/4 cup plus 2 tbsp confectioner's sugar
• 1 tsp vanilla extract
• 1/4 tsp almond extract
• 1/2 tbsp finely grated orange zest
• 1/4 cup chopped dried cranberries
• 1 cup (125 g) all-purpose flour
• 1/8 tsp baking powder
• Pinch of salt
Instructions
1. Cream the butter vigorously until creamy and smooth, about 2 minutes. Slowly add the powdered sugar a little at a time, beating until smooth after each addition. Add vanilla extract, almond extract, orange zest, and dried cranberries, and mix just until combined.
2. In a separate bowl, whisk together flour, baking powder, and salt. Add the flour mixture to the butter mixture, mixing gently until the dough comes together to form a thick paste.
3. Form dough into two logs, each about 1 ½" in diameter. Wrap in parchment paper or plastic wrap, and refrigerate for at least one hour (until firm), or up to three days. At this point, you can also freeze the dough until you're ready to bake. Unless I'm making these cookies in bulk, I usually freeze one log and chill the other.
4. When you're ready to bake, preheat the oven to 350°F. If frozen, let the logs stand at room temp for 10 minutes. Remove parchment. Eat some dough. (Check it out, no egg!)
5. Cut logs into ¼" slices and space them about 1" apart on a baking sheet lined with parchment paper. They will not spread much.
6. Bake until pale golden, about 12 minutes. Let cool and enjoy!