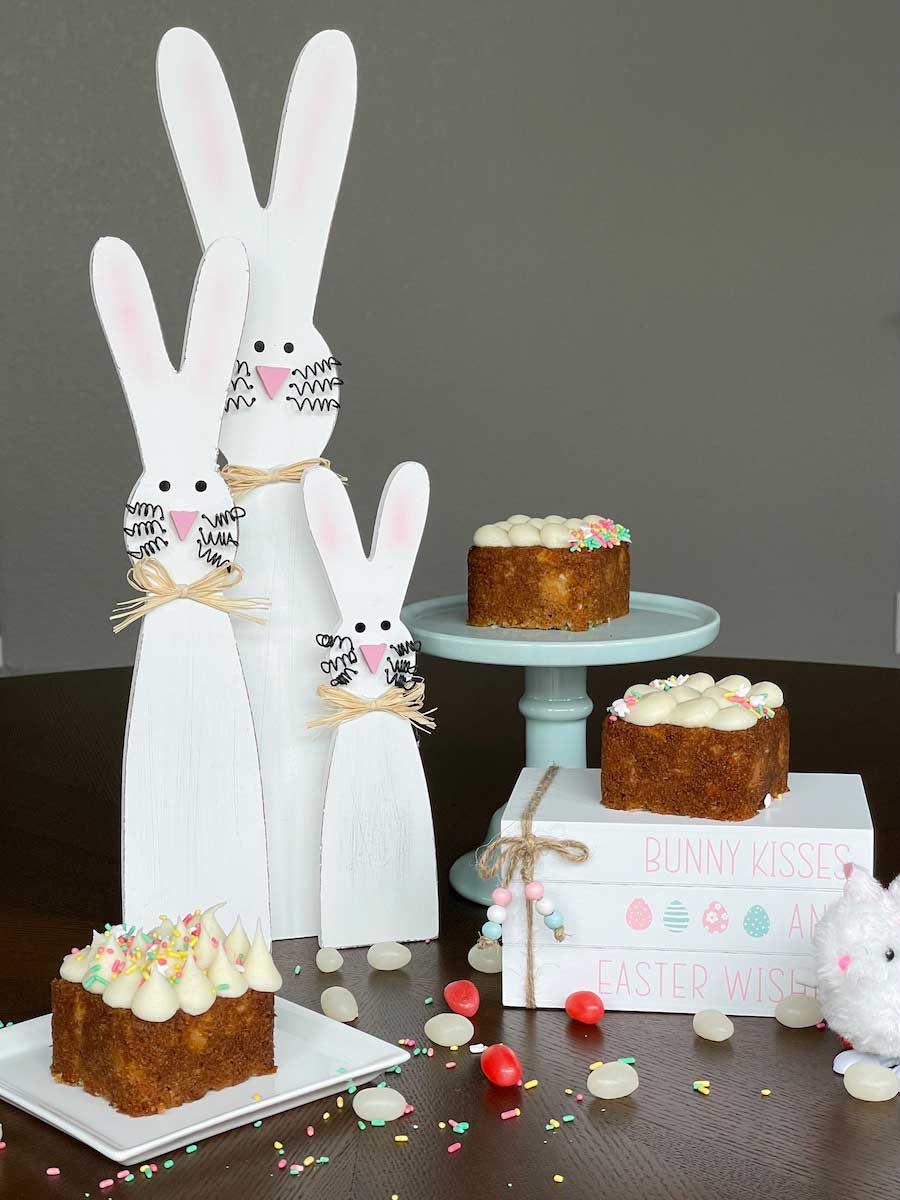 Carrot cake is a very traditional cake that is full of flavor, extremely moist, and loved by many. Despite its long history and favorable reviews by most, it's not usually the flavor I reach for if there are other desserts options available. I'm more of a chocolate gal, but this recipe changed my view on carrot cake forever!

What I love most about this recipe is its versatility. You can swap out one thing for another, as well as mix and match the flavor combinations without changing the texture of this cake. Don't like coconut? That's okay, leave it out! Allergic to nuts? No problem, scratch that item off the list! Not a fan of raisins? (Really?) I guess you can leave them out, but I suggest you try the golden ones—they're plump little bursts of sweet caramelized goodness when baked up in this recipe!

You have a few options when it comes to pan styles and sizes. Keep it simple with a basic sheet pan, dress it up as a layered cake, or opt for the ever-popular cupcake. This time around I chose to make individual mini cakes. Add a bit of simply piped icing with a few seasonal sprinkles and these tiny treats are perfect for just about any holiday.

Mini Carrot Cake Recipe:

To get started, preheat your oven to 350°F and prepare your cake pans. To prevent sticking, grease and flour your pan or spray with your favorite nonstick cooking spray (I like Baker's Joy).

In a bowl, mix on low until combined:

¾ Cup brown sugar
¾ Cup sugar
3 eggs


Add to above mixture and combine:

1 tsp vanilla
1 Cup oil


In a separate bowl, combine the dry ingredients:

2 Cups flour
2 tsp baking soda
2 tsp cinnamon
1 tsp allspice
1 tsp baking powder
1 tsp salt


***High altitude adjustment: add 1/4 cup flour***

With mixer running, slowing add dry ingredients into wet ingredients until incorporated.

Mix in:

2 Cups grated carrots
14 oz crushed pineapple (This is the secret ingredient!)


Stir in optional ingredients:

1 Cup shredded coconut
½ Cup nuts (pecans or walnuts)
½ Cup raisins (try the golden ones for a hint of sweetness)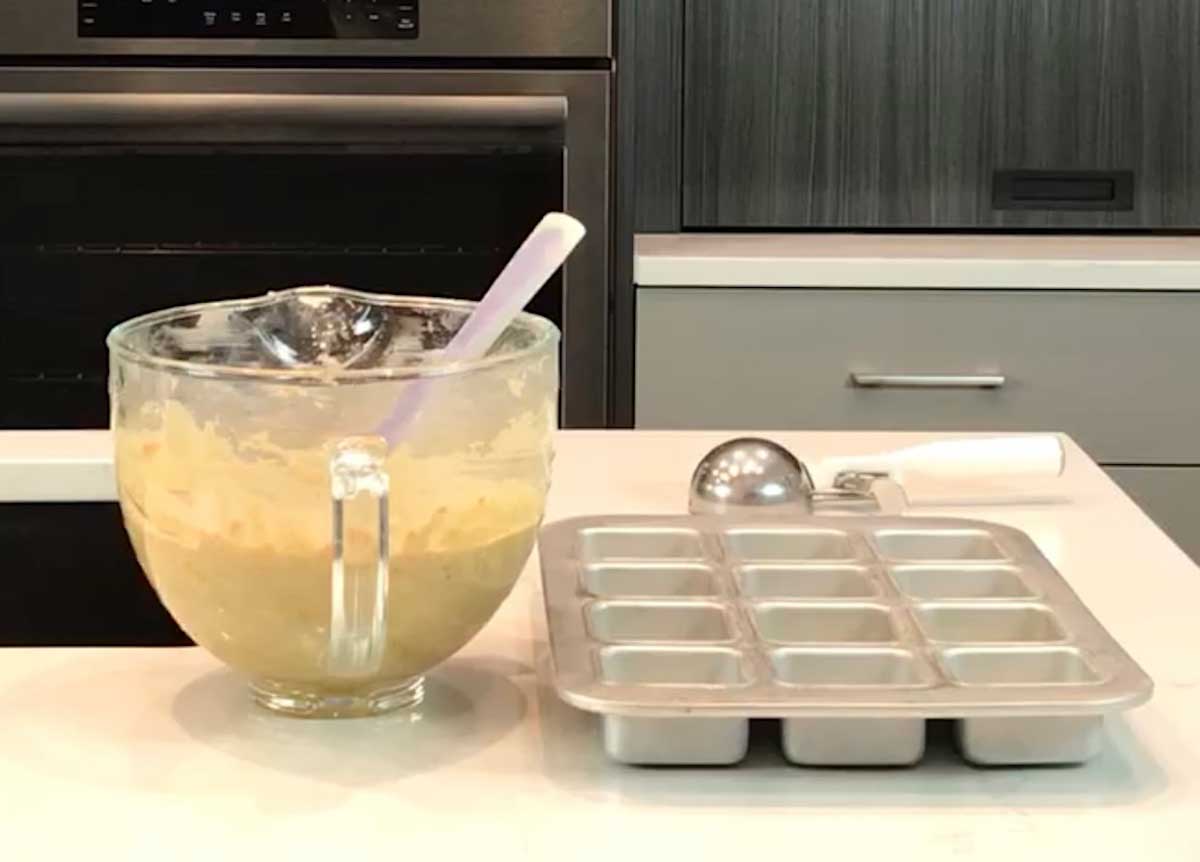 Pour batter into prepared pan(s). This recipe can be baked in two 8" rounds, a 9"x13" sheet pan, or a 12-count muffin/cupcake pan (I used one like this). Baking time varies based on pan size.

Muffins/cupcakes: approximately 30 minutes
8" pans: 40-50 minutes
9"x13" sheet pan: 50-60 minutes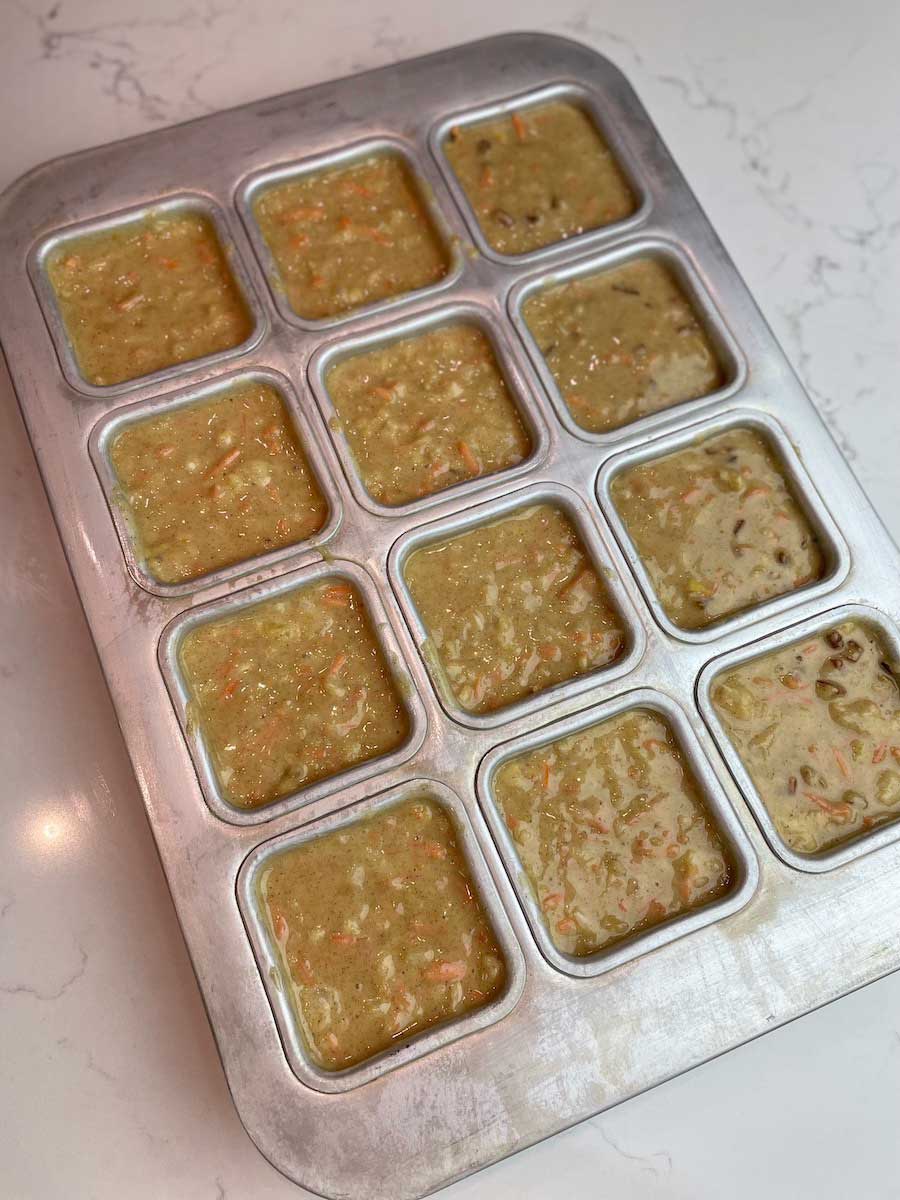 Keep an eye on your cakes as they bake. You'll know they're done when the center bounces back when lightly pressed. Remove from oven and allow to cool for 20-30 minutes before inverting on a wire rack. Make sure they're fully cooled before removing them from the pans.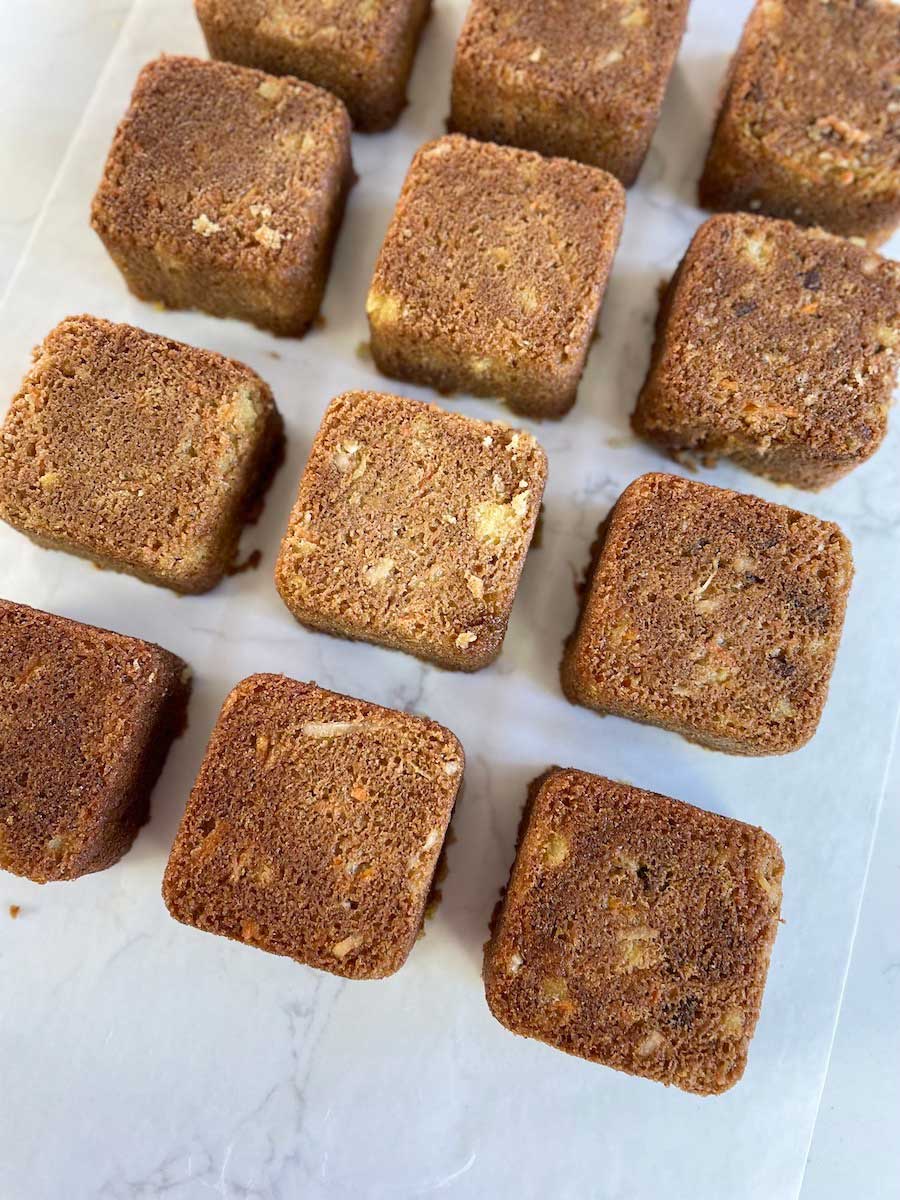 While the cakes are cooling, prepare the cream cheese frosting. In a large bowl, combine with mixer:

8 oz cream cheese (softened)
4 oz unsalted butter (room temperature)
1 lb (about 4 Cups) powdered sugar (sifted)
1 Tbs vanilla


Start with half of the powdered sugar, combine ingredients on low, then add remaining sugar and combine until smooth. For fluffier frosting, increase mixing speed to medium and beat for an additional 3-5 minutes.

Ice cooled cake(s) as desired. Refrigerate until ready to serve. Cover any leftover cake tightly and store in the refrigerator for up to 5 days.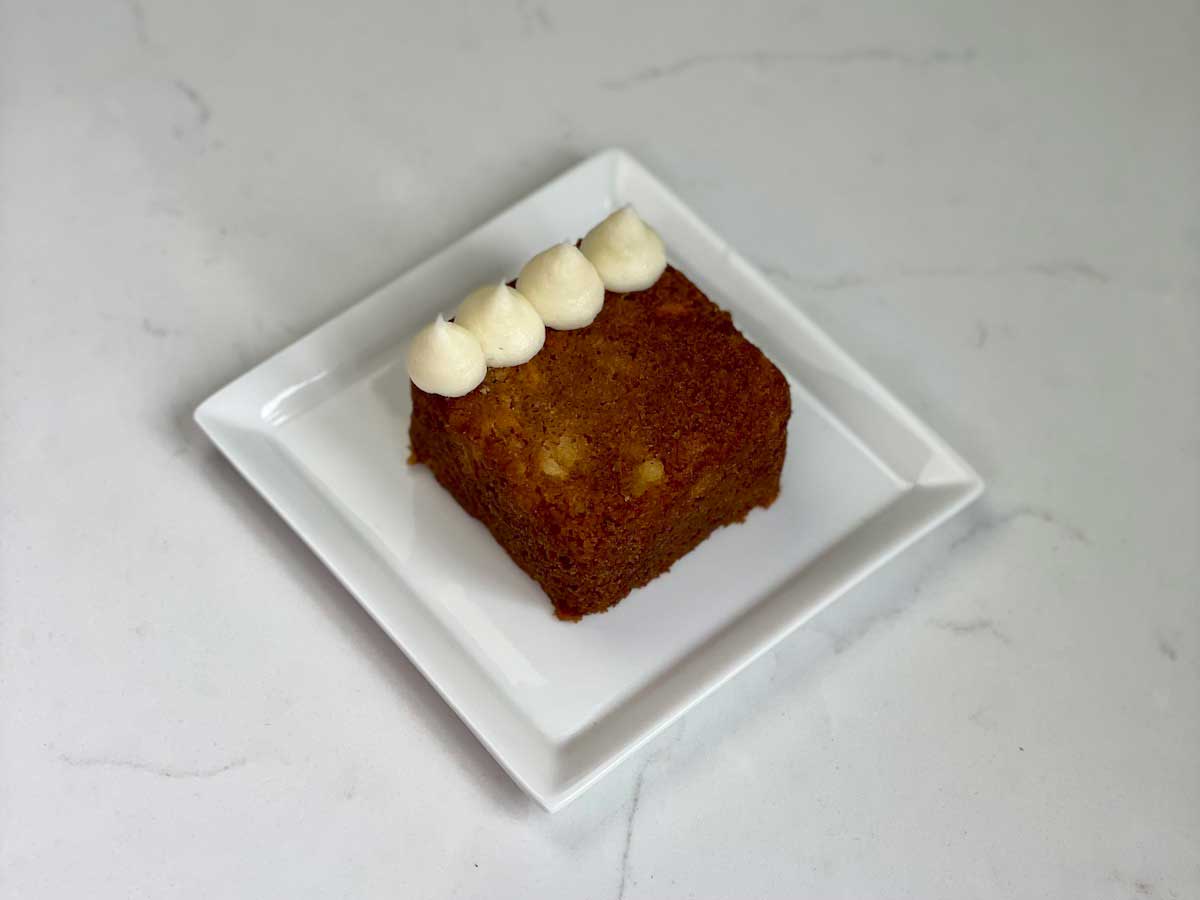 Hopefully you enjoy this delicious recipe as much as I do, and maybe it'll even convert a carrot cake skeptic like me! While this recipe is tasty as is, the beauty of this cake is truly its versatility. Swapping out or incorporating just one ingredient can make the cake your own and give it a soft, subtle sweetness that keeps you wanting more.
Which ingredient do you think is the gamer changer? Let us know your secrets for the best carrot cake in the comments below!